By
Chris Wimmer
Recently I received a set of the new
El Diablo Soccer Nets
from Rukket and since I coach a u10 girls travel team my test environment was already set up for me. Just set up the nets, run our practice session, and see how the El Diablo holds up.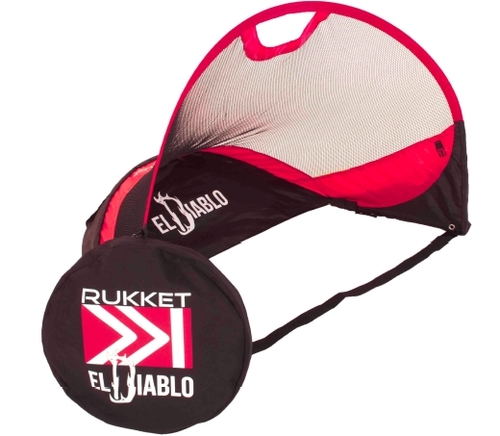 El Diablo Soccer Net from Rukket
The first observation of these portable soccer nets was how light and compact they where. Each net comes in a small shoulder sling carrying case and they weigh next to nothing. Compare that to most other portable nets on the market which are huge and not-so-easy to carry and I was already impressed.
Observation number two, easiest setup imaginable. Simply slide the "Caution: Net Pops Open" strap off, hold the net away from your face, and voilà set-up complete!
So how did the nets hold up during a full training session with my team? Since our practice is on turf it was nice to have the pockets on the corners and backside to place small items such as water bottles or my wallet in to help weigh down the nets and keep them stationary. Each net did come with small stakes to use on outdoor fields if needed. The design is great because on the inside/back of the net there is essentially a small ramp that makes retrieving balls painless and easy. Plus, no more cleats getting stuck in the net.
As with any type of portable net, there is some folding involved to pack away your net however the visual instructions sewn into the carrying case makes this less of a task than one would expect.
From the affordable cost point to the ease of set up and the great design as well as the ability to use these nets on any surface I gave the El Diablo Soccer Net an A+.